Petaluma Woman's Club (PWC) Monthly Events
---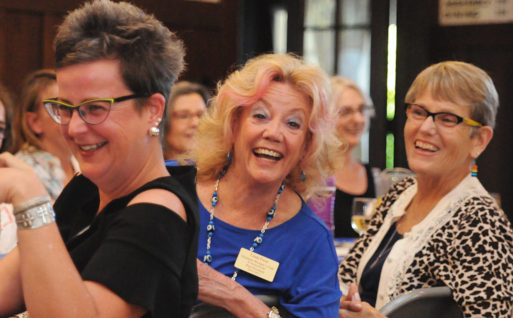 PWC Luncheon Events are on the 2nd Thursday of the month at 11:00 AM. They are usually decorated in the festive theme of that month.
11:00 AM – Appetizers & Social Hour
12:00 PM – Luncheon
1:00 PM – Entertainment/Activities
PWC Dinner Events are held on the 3rd Thursday of the month at 6:30 PM.
6:30 PM – Appetizers & Social
7:00 PM – Short Business Meeting. Dinner and entertainment/activities follow.
Come join us for an afternoon luncheon or an evening dinner event. All events are interesting, educational, entertaining and fun. We welcome all ladies; you don't need to be a Petaluma resident. Here's a list of our upcoming themed evening events. Get social with us! Sign up to get event info below…
New-comers and out-of-town guests are always welcome. To make you feel at home, we greet new-comers, introduce them to others, and seat you with members who will be able to answer any questions. Visitors may attend two events before joining as members.
Petaluma Woman's Club Evening Events
PWC Members – login to our member section to sign up for your favorite event committee.
Hover over event box for event info…
Welcome Back!
Windows & floors professionally cleaned. Stage fully dusted and steam cleaned, all dishes washed! We had an extraordinary and fun day shining up our PWC Clubhouse at the Rub-a-Dub-Dub.
She's ready for YOU! Ready for US together again!
Point Reyes National Seashore
Grab your flip flops and join us on the beach, as we learn about the Point Reyes National Seashore and all it has to offer! Dine on coastal cuisine from our beautiful region!

August 19th, 2021 6:30 PM
Meet the innovative leadership team of Peggy Smith and Sue Conley, co-founders of Cowgirl Creamery, as they relate the birth, development and subsequent sale of their amazing company! Enjoy their cheeses and wine tasting followed by dinner!
September 16th, 2021 6:30 PM
An Evening In Barcelona! Pablo Picasso, Tapa's, and Paella!
October 14th, 2021 6:30 PM
PWC's 125th Anniversary Celebration
November 18th, 2021 6:30 PM
Mama Mia! We are all dancing queens as we travel to the Greek islands and enjoy great food, music, and friendships!
December 16th, 2021 6:30 PM
Bunco and ornament exchange! Come play bunco with us as we rotate around the room meeting new ladies! It is an easy game you will learn quickly. Please bring an ornament around $10 for an exchange!
January 20th, 2022 6:30 PM
Nauti Girl! Cruise with us around the Caribbean with stops in Cuba, Jamaica, and Puerto Rico for some island culture, food and music!
February 17th, 2022 6:30 PM

Join us as we celebrate the annual Cherry Blossom Festival and our country's friendship with Japan!
Celebrate St. Patrick's Day with us and enjoy corned beef and cabbage.
Board Nominations
Petaluma Garden Club and History Museum
Please join us as we celebrate the installation of officers and a garden reception, followed by dinner at the clubhouse! Thank you to all the outgoing Board members and Appointed members for your service to the club.

Installation of the 2022-2023 PWC Board of Directors
Join us for Basque Night! A heavenly combination of Spanish and French cuisine from the western Pyrenees between France and Spain on the coast of the Bay of Biscay. We can't wait to enjoy this wonderful food and music!
Join us as we venture down to the deep south of Louisiana for Cajun food, music, and Cajun dance lessons!
Make your Reservations:
telephone: 707-762-4271
email: membership@petalumawomansclub.com
website RSVP: Contact Us
Please make your reservation by 12 Noon on Saturday prior to each event so we may plan food and activities accurately. (No shows will be billed.)
Both Lunch and Dinner Events are fun social events which include food, drinks, and themed activities/entertainment. All events are usually $25 at the door by Reservation ONLY. Visitors are very welcome!
Need a ride or a vegetarian meal? Let us know when you make your reservation.
Visitors are welcome, too. Sign up below to receive event announcements.


PWC uses information provided by you to fulfill your request for information. Please see Privacy Policy for details.