The Petaluma Woman's Club follows current Sonoma County COVID protocol at all events.  Updated information is included in ticketing.
Tuesday, December 7th, 2021 at 5:30 PM
Women in Science – Lee Boyes & Libby Harvey FitzGerald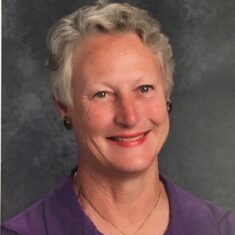 Lee Boyes is a teacher at Petaluma High School as well as a scientist.  Science is the vehicle by which she teaches students how to think critically.  Lee has earned both the North Bay and the Sonoma County teacher of the year awards in her 25-year tenure at PHS.
Lee received her bachelor's degree in chemistry from Sweet Briar College in Virginia and her Master's in Education from Claremont Graduate School in southern California.  Lee's passion to teach started in the first grade because she had a wonderful teacher who was always willing to answer her questions.  Then in high school Lee had another influential female chemistry teacher who solidified Lee's desire to teach.  She has been teaching ever since with a short hiatus into industry which you will hear about today.
Libby Harvey FitzGerald is a natural products chemist with a bachelor's degree in chemistry from Sweet Briar College in Virginia. She was CEO of Alpha Chemical & Biomedical Laboratories in Petaluma and, after 17 years, negotiated acquisition by a European lab. Her mantra "Good Science is Good Business" carried her from an early career with the American Chemical Society in Washington DC to California and then onto the national stage in helping to establish laws and methods for analytical testing of original plant material, manufacturing process samples, and final bottled content/label integrity of herbal products and dietary supplements. Libby also has a strong community involvement that resulted in her North Bay "Women in Business – Technology Industry" and Petaluma "Citizen of the Year" awards.
Coming soon…
Tuesday, February 8th, 2022 – Art:  Foxes in the Hen House

Cowgirl Creamery's co-founders, Sue Conley and Peggy Smith
Red Hawk, Chimney Rock, and Devil's Gulch sound straight out of an old Western movie, but they happen to be bestselling aged cheeses produced in Northern California.
Sue and Peggy are pioneers but not exactly cowgirls. They met at the University of Tennessee and have been integral to the Bay Area farm-to-table food scene for decades.  In Berkeley, Conley co-owned and cooked at Bette's Oceanview Diner while Smith was in the kitchen at Chez Panisse for 17 years.
From those experiences, they forged bonds with local farmers and dairy suppliers.
None has turned out to be more important than Ellen Straus, the matriarch of Marin County 's Straus Family Creamery, which led the organic milk movement in the U.S. in the 1970s.  It was Straus who one day observed a young woman hitching her horse to a post in front of the bank in tiny Point Reyes Station, an hour north of San Francisco, and told Conley and Smith, " We're living in the Wild West out here."
Conley countered, "Then we must be cowgirls!  And this must be the Cowgirl Creamery."
In the early 1990s, Conley and Smith had launched Tomales Bay Foods, a marketing company designed to help local farms and dairies connect with the Bay Area's top restaurants. Then they started making fresh cheese in their renovated barn, sourcing the milk from Straus Family Creamery.  Hear and see their interesting and insightful presentation here.
Commemorating the centennial anniversary of the ratification of the 19th Amendment – Women's Right to Vote, our PWC Speaker Series in partnership with the Village Network of Petaluma presented Katherine Rinehart. 
Katherine Rinehart is the author of "Petaluma: A History in Architecture", a consulting historian and former manager of Sonoma County History & Geneaology Library.   View her presentation…
Where Women Made History:
Exploring Sites Associated with Petaluma's Suffrage Movement
We also had amazing evenings with our past conversation speakers – Maria Stipp, CEO of Lagunitas Brewing Company, Dr. Jane Saldaña-Talley and Dr. Catherine Williams, both of Santa Rosa Junior College, Petaluma Campus, Dr. Bonnie Bergin of the Bergin University of Canine Studies,  and Libby Porzig, PhD,  an ecologist and the director of the Working Lands Group at Point Blue. .
Don't miss out on future speakers.  They have so much to share.