August 3rd at 5:00 PM
Dr. Bonnie Bergin
Join us for a field trip to the Bergin University of Canine Studies. We will tour the facilities, hear all about the great works that Dr. Bergin has done in bringing the service dog concept to fruition, and see a demonstration of service dog training.
Meet us at 4:50 PM at the
Bergin University of Canine Studies
10201 Old Redwood Hwy, Penngrove, CA 94951
Maximum of 40 people and limited to PWC Members only – so sign up soon!
$15 per person with a portion of the proceeds donated to Bergin University. Sign up through Eventbrite using the button below!
Meet Dr. Bonnie Bergin
Founder, Canine Companions for Independence and President / CEO of Bergin University of Canine Studies
Dr. Bonnie Bergin originated the service dog concept. She founded the world's first service dog agency 25 years ago where she has devoted her life to her work, training service dogs for disabled people.
In 1991, Dr. Bergin started the Assistance Dog Institute so that further research could be done.  Her goal was to produce a better service dog.  Two years later she began an innovative program called the High School Assistance Dog Program.  Her idea was to show at-risk teenagers how to train the service dogs.  This, to her, was a win-win situation because she could serve two distinct groups at one time.  Today there are 10 such programs operating around the country due to Dr. Bergin's efforts in Rohnert Park.
The High School Assistance Dog Program pairs troubled teens who are incarcerated or in a group homes – often on probation – with a golden retriever.  They have daily sessions in the instruction of service dog commands.  These are children who have committed crimes against the community, but they are now giving back to their community by training service dogs for disabled people.  The teens gain self-esteem, communication skills, and anger management, as well as the unconditional love of their dog. The disabled person gets much needed help for their independence, as well as a new friend.
Dr. Bergin provides the children with job references, consults with a psychiatrist on the best ways to work with them, and provides many other opportunities for these children who generally come from troubled families.
The mission of the agency she founded is "Helping Dogs Help People," and Dr. Bergin does this in many ways.  With her help, the at-risk teens learn about helping others, too.
Tuesday, October 12th, 2021
Elizabeth Porzig – Ecologist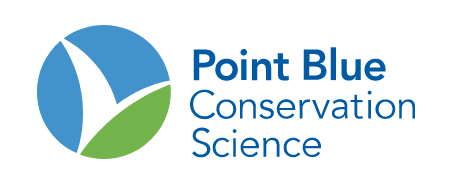 Libby Porzig, PhD, is an ecologist and the director of the Working Lands Group at Point Blue.  Libby oversees Point Blue's efforts on agricultural landscapes, working with farmers and ranchers to demonstrate and implement strategies to maintain and enhance ecosystem services of agricultural lands.  The presentation will explore the ecosystem services provided by California's agricultural landscapes as well as some of the ways in which farmers and ranchers are partnering with scientists to discover and implement land stewardship practices that benefit biodiversity, carbon and nutrient cycling, water resources, and food production.
And, coming soon…
Tuesday, December 7th, 2021 – Women in Science – Lee Boyes & Libby Harvey Fitzgerald

Tuesday, February 8th, 2022 – Art:  Foxes in the Hen House

Cowgirl Creamery's co-founders, Sue Conley and Peggy Smith
Red Hawk, Chimney Rock, and Devil's Gulch sound straight out of an old Western movie, but they happen to be bestselling aged cheeses produced in Northern California.
Sue and Peggy are pioneers but not exactly cowgirls. They met at the University of Tennessee and have been integral to the Bay Area farm-to-table food scene for decades. In Berkeley, Conley co-owned and cooked at Bette's Oceanview Diner while Smith was in the kitchen at Chez Panisse for 17 years.
From those experiences, they forged bonds with local farmers and dairy suppliers.
None has turned out to be more important than Ellen Straus, the matriarch of Marin County 's Straus Family Creamery, which led the organic milk movement in the U.S. in the 1970s. It was Straus who one day observed a young woman hitching her horse to a post in front of the bank in tiny Point Reyes Station, an hour north of San Francisco, and told Conley and Smith, " We're living in the Wild West out here."
Conley countered, "Then we must be cowgirls! And this must be the Cowgirl Creamery."
In the early 1990s, Conley and Smith had launched Tomales Bay Foods, a marketing company designed to help local farms and dairies connect with the Bay Area's top restaurants. Then they started making fresh cheese in their renovated barn, sourcing the milk from Straus Family Creamery. Hear and see their interesting and insightful presentation here.
Commemorating the centennial anniversary of the ratification of the 19th Amendment – Women's Right to Vote, our PWC Speaker Series in partnership with the Village Network of Petaluma presented Katherine Rinehart.
Katherine Rinehart is the author of "Petaluma: A History in Architecture", a consulting historian and former manager of Sonoma County History & Geneaology Library. View her presentation…
Where Women Made History:
Exploring Sites Associated with Petaluma's Suffrage Movement
We also had amazing evenings with our past conversation speakers – Maria Stipp, CEO of Lagunitas Brewing Company, Dr. Jane Saldaña-Talley and Dr. Catherine Williams, both of Santa Rosa Junior College, Petaluma Campus.
Don't miss out on future speakers. They have so much to share.